Why Should You Take The Class?
Since we often use verbal communication in our everyday lives, we tend to forget how important it is to go back to the basic, understanding phonemes. Taking this class will help students master the use of sounds in meaningful communication.
Improve Communication
Producing and recognizing the correct sound to form certain words is crucial to improve communication.
Gain Confidence
Pronounce the words correctly and with confidence as you communicate with other people.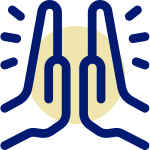 Refine Your Social Skills
Learn to understand people better when having verbal communication and how to respond properly.